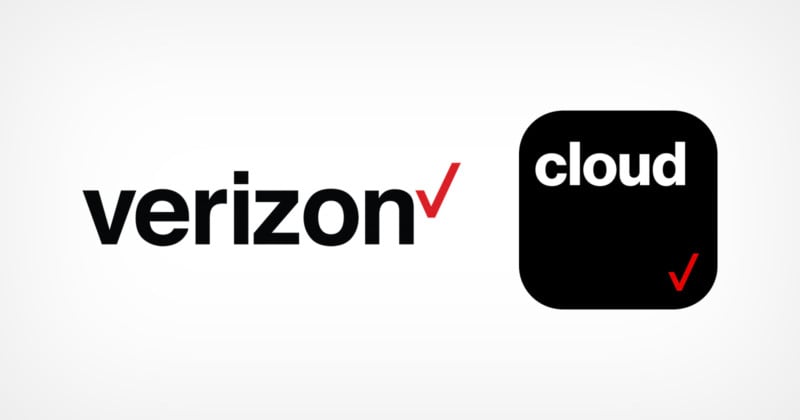 In November, Google announced that it was removing easy access to its unlimited photo storage option in Google Photos. Sensing blood in the water, Verizon has launched an unlimited storage option in its own competitor cloud service.
Verizon is known more as a data provider than a purveyor of any tangible product, but the company appears to be spreading its wings a bit in the wake of Google's announcement. As a just-announced option of the company's Verizon Cloud, it features storage capacities and added functionality that are specific to photographers.
Verizon's Cloud has three tiers with separate prices and features: 600 GB for $6 a month, 2 TB for $15 per month, and unlimited storage for $20 per month. The structure here is very much akin to the "A, A-, and D" strategy that many photographers employ in their own businesses. Rather than offer a true set of three options at well-spaced prices and features for three clearly differentiated buyers in a true "A, B, and C" set of choices, Verizon instead made a very appealing unlimited plan next to the 2 TB plan with only five dollars separating them. They otherwise have the same full features. The third option is clearly positioned to be the least desirable, offering the highest dollar-per-gigabyte price and no added features.
It's a marketing strategy that essentially drives purchasers to nearly every time select the most expensive plan because of how it is positioned against what are clearly worse second and third options.
Psychological sales tricks aside, Verizon's pricing is notably higher than the options given for Google One, but it actually gives photographers the option to go with an Unlimited plan.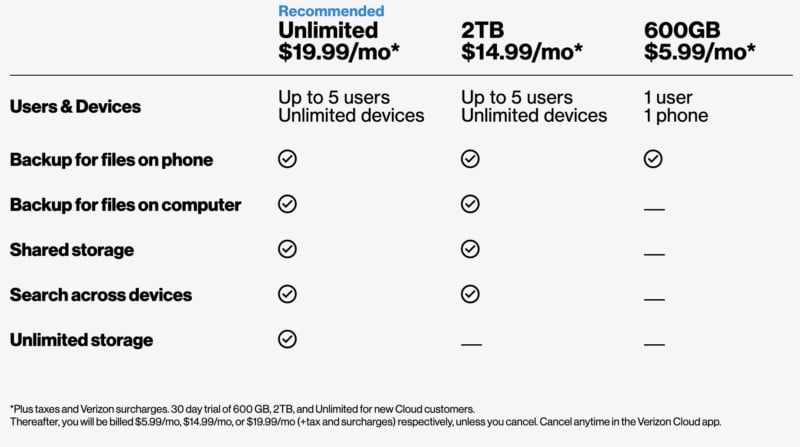 The service works as a downloadable app for your computer and is cross-compatible with Apple and Android devices. It operates similar to Dropbox as you can tell it to specifically back up select folders through the desktop app and the original integrity of the files is maintained, but it has the added ability to work with a type of file. If you specify the backup of photos, for example, it can automatically upload those files regardless of where they are stored on your machine. The same can be done via your mobile device through the Verizon Cloud app available in the App Store or on Google Play.
Verizon has offered a cloud storage system for some time, but the addition of Unlimited to the pricing structure is new as of this week. $20 a month for unlimited devices, five users, and unlimited storage is relatively low, especially when compared to the higher-tier storage options from competitors like Dropbox which starts at $60 for unlimited and can run into the hundreds depending on how many people need access to the data. Unlimited is also only offered in the business plans with Dropbox.
One thing to keep in mind is that like with most of the companies who offer unlimited storage, there is no guarantee that unlimited will always exist. When asked point-blank to a Verizon representative if there were any guarantees for how long the unlimited option would be offered, the company declined to respond. Adding to this, Verizon has a history of changing up its Cloud pricing. Just last month the company sunsetted the free plan, likely to make way for this latest set which includes unlimited. So while Verizon's offer here might be tempting, there is no indication for how long anyone will be able to enjoy it.