Over the last several years, autofocus technology in cameras – regardless of manufacturer – has gotten incredibly reliable. With that in mind, Manny Ortiz set out to see if there was a notable difference among the big three in this 7.5-minute video.
First of all, it should be noted that Ortiz intended to do this test with the Sony a7S III because it packs the latest technology from Sony. However, he didn't remember the correct cable to record what the camera was doing so he substituted the a7 III. Ortiz does anecdotally refer to experiences he has had with the a7S III if there are any instances where it might be believed the a7 III was failing due to its age.
Through a series of tests, each camera shows that it has different strengths and weaknesses. For example, the new Nikon Z6 II was able to more easily jump back to a model's face when a large object obscures the shot – a light pole – while both the Canon EOS R5 and the a7 III had to re-acquire focus by half-pressing the shutter button repeatedly.
The Canon R5 was the fastest to find a model's face when panning into a scene, while the Nikon wasn't too far behind it. The Sony, however, seemed to want to prioritize objects closer to the frame rather than a face, which Ortiz shows happening on both the a7 III and the a7S III.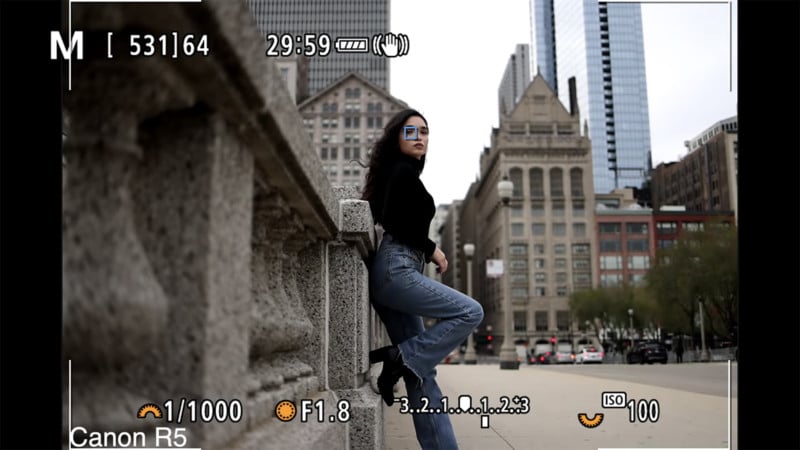 The a7 III was able to lock on to a model's face from the farthest away, while it appeared that for the Z6 II and the R5, the model's face was too small for the algorithms to recognize it as a face. This is terribly surprising as Sony has touted its autofocus system as able to detect faces and eyes much smaller in the frame than its competitors for years. The a7 III is getting pretty long in the tooth and it still outperformed two brand-new competitor's cameras in this regard.
Ortiz says that the original Z6 autofocus had trouble figuring out what was important to focus on and was slow to do so, while this latest camera from Nikon completely remedies those problems. Nikon clearly made changes to its autofocus algorithm that have, in Ortiz's testing, made the camera a viable and competitive choice.
What do you think of Ortiz's testing and the results? Let us know in the comments. For more from Manny Ortiz, you can subscribe to his YouTube Channel.
(via Canon Watch)