A new product bearing the Kodak name seems to ask, "If you're shooting film, why not immerse yourself in the experience?" The company is releasing metal film canisters commonly used in the 1970s brand new for 2020. Groovy.
Retopro is a brand licensee of Eastman Kodak Company and has emblazoned the iconic photography brand's logo on metal canisters designed to hold film rolls. The body is made of aluminum and the cap is made of steel, a design popular in the 1970s before the industry made the switch to plastic.
"We are inspired by the selection of materials and colours, and wish to recreate a new version of the Kodak Film Case, only to make it even more practical and stylish," the company writes.
The Kodak film cases are light on features since they're mostly a fashion icon with a simple use case: it's a slim metal case that holds up five rolls of film. The insert that holds the film in place is made of plastic and can be removed if you want to use the case for objects other than film.
"The Kodak Film Case, made of steel with high tensile strength, provides your films with strong protection," the company says. "The case is small and portable, making it ideal for all analog lovers. It protects your film rolls dry and clean, and organises five rolls of 135mm film in one place. It is perfect for a day out for shooting or even a sweet long holiday."
The cases measure 148 mm by 56 mm by 47 mm (5.8 inches by 2.2 inches by 1.8 inches) and weighs a scant 160 grams (~5.6 ounces) when empty.
The "Classic Case" features a yellow body with red or blue lids. The "Radiant Case" has a silver body and matches with a yellow or silver lid. Finally, the "Matte Case" is available in either all white or all black.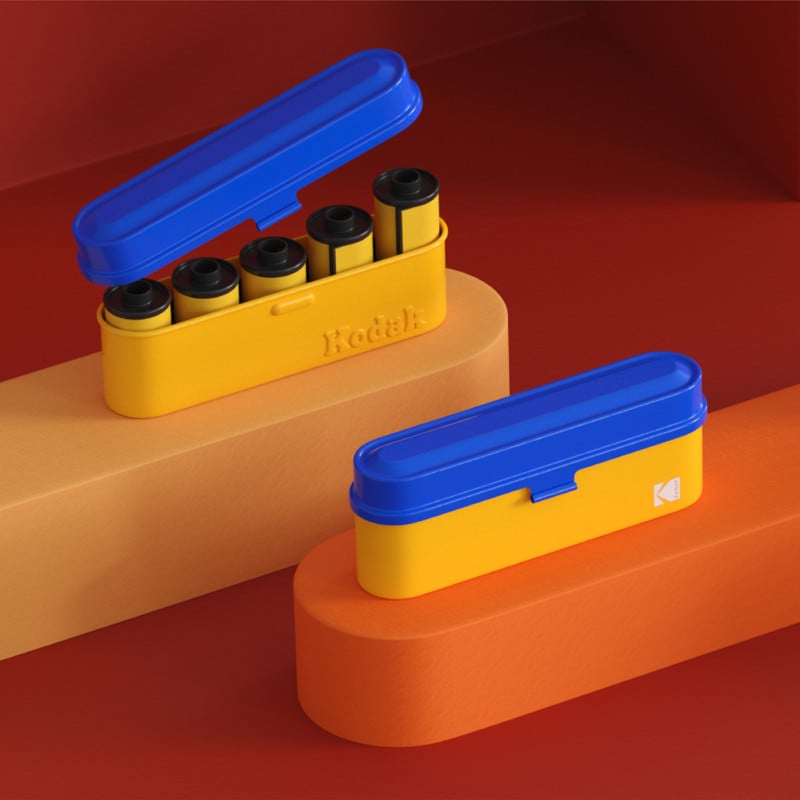 Each case option is priced at $25 and is available for pre-order here. The company estimates it will be able to begin shipping cases in December.