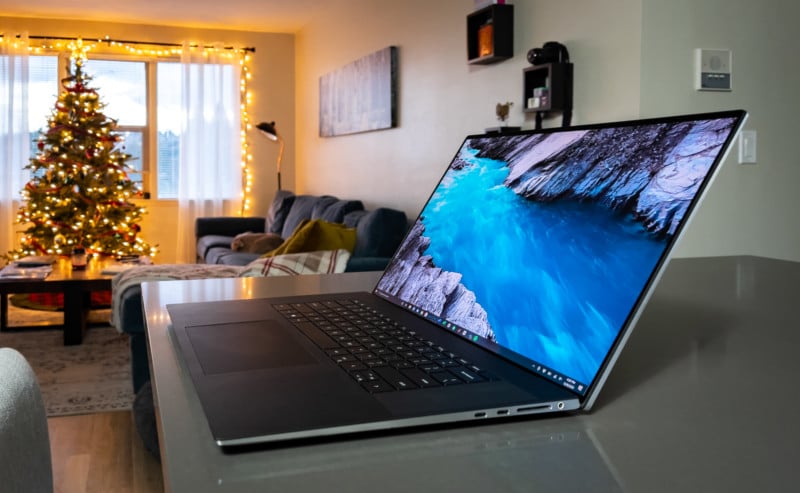 When Dell decided to bring back the XPS 17, I was skeptical. Most 17-inch laptops fail to give you enough performance to justify the drop in portability; what you end up with is either too big, not powerful enough, or both. That's what makes the XPS 17 so special. This is a 17-inch laptop built with creative professionals in mind.
It doesn't take a genius to figure out who Dell is targeting here. If you spend most of your time surfing the Internet, popping in and out of Zoom calls, or working in Excel, you are not the target audience.
However, if you're reading this, that means you probably are the target audience: photographers, videographers, illustrators, graphic designers… in other words: creative professionals. If you fall into one of these categories, read on, because Dell has done something really special here.
Specs and Price Point
The Dell XPS 17 starts at $1,350, but as usual, the base model is not a spec that we can recommend. If you do no upgrading, you're getting a quad-core i5-10300H, 8GB of RAM, 256GB of solid state storage, no discreet graphics card, and a non-touchscreen 1920 x 1200 display.
Our review unit is, of course, a bit more stacked. As tested, we're working with:
CPU: 10th-Gen 8-Core Intel Core i7-10875H
RAM: 32GB DDR4-2933MHz (2x 16GB sticks)
GPU: NVIDIA GeForce RTX 2060 Max-Q w/ 6GB GDDR6 RAM
Storage: 1TB M.2 PCIe NVMe Solid State Drive
Display: 17-inch UHD+ 3840 x 2400 Touchscreen
Price: $3,000
To Dell's credit, this is not the highest-end configuration. Manufacturers usually send reviewers the most expensive model because it will generally get the best review. Dell sent us something more reasonable–a configuration I would probably suggest that photographers actually buy. If you do want the highest end model you'll have to drop $3,800, and for that you'll get:
CPU: 10th-Gen 8-Core Intel Core i9-10885H
RAM: 64GB DDR4-2933MHz (2x 32GB sticks)
GPU: NVIDIA GeForce RTX 2060 Max-Q w/ 6GB GDDR6 RAM
Storage: 2TB M.2 PCIe NVMe Solid State Drive
Display: 17-inch UHD+ 3840 x 2400 Touchscreen
Price: $3,800
The extra RAM and storage space certainly wouldn't be a terrible thing, and it is cheaper than a similarly specced 16-inch MacBook Pro, but the top spec probably won't make a huge difference for most photographers. Still, it's there if you need it.
Build Quality and Design
After many years of aggressively average PC design, Dell now makes one of the most beautiful laptops around. Their entire XPS lineup is sleek, solid, immediately recognizable, and will hold its own next to anything by the likes of Apple or Razer. This isn't just high praise, it's important for both durability and interacting with clients.
The aluminum shell is rigid, with no chassis or screen flex to be found, and the soft-touch material on the inside is a nice change from the all-aluminum styling of other high-end devices. Meanwhile, the absurd 93.7% screen-to-body ratio all-but-eliminates bezels and makes this 17-inch laptop the same size as most 15 or 16-inch models.
It's still big and heavy, thanks in large part to the 97Wh battery, but it's a lot smaller and a little lighter than you'd expect for something with such a large screen and impressive performance. In short: when it comes to finding the best balance between heavy-hitting performance, sleek styling, and reasonable portability, the XPS 17's design checks all the right boxes.
Usability – Keyboard, Trackpad, I/O, Battery Life
A good laptop can easily be ruined by a crappy keyboard or unacceptable battery life. Fortunately, you won't find either of those problems here.
The keyboard and trackpad are among the best I've used on a PC. The keys have plenty of travel and a satisfying click–none of that mushy feeling you get from some laptop keyboards–and the trackpad is just plain huge. I've been hoping that more PC makers would copy Apple's oversized trackpad design, and I'm glad that Dell finally did. Anything less would have been a disappointment on a laptop this size.
In terms of I/O, you get four Thunderbolt 3 ports, an SD card slot, and a combination headphone/mic jack. It's not the best port selection on the market—I would have loved to see an Ethernet port and maybe one USB-A port on a laptop this size—but it's not all bad news. Three of the four Thunderbolt ports can be used for charging or hooking up a display, and I'm relieved to see that the SD slot lives on. Plus, you get a USB-C to HDMI/USB-A dongle in the box.
Finally, I was pleasantly surprised by the XPS 17's battery performance. It's not going to blow your mind. Let's be clear: no computer with this screen, this CPU, and this GPU is going to set battery records. But I could easily get through a full day of my regular workflow without plugging in. Previously, I could only say that about Apple's laptops.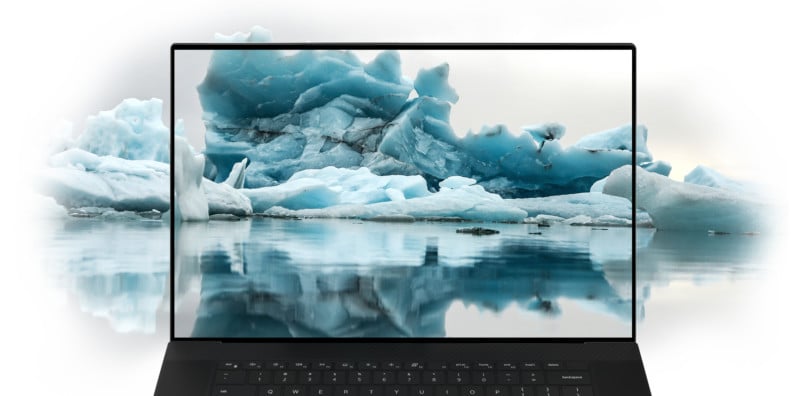 All About the Display
But none of that is why you should buy the XPS 17. The screen is why you should buy the XPS 17. Having worked with several high-end "creator" laptops including the 16-inch MacBook Pro, the 15-inch Razer Blade Studio, and the ASUS ProArt Studiobook 17, all of which have professional-caliber displays, I can say with confidence that this is the most beautiful edge-to-edge screen I've ever seen in a laptop.
On the technical side of things, we were able to confirm Dell's claims that this screen hits 100% AdobeRGB and 94% of DCI-P3 using a DataColor Spyder X Elite.
That, combined with a max brightness of 500 nits, earns the screen VESA's DisplayHDR 400 certification and a big fat stamp of approval from anybody who works with images or video.
The 16:10 aspect ratio and the 17-inch form-factor isn't ideal for most users since it necessarily makes the laptop bigger and more cumbersome. But photographers and video editors will find the combination irresistible as it offers one of the best photo editing, tethering, and content consumption experiences on the market.
Performance
Our benchmark results for the XPS 17 put it right alongside the other elite-level computers we tested earlier this year… it's just a little cheaper. As we have in the past, we ran a Lightroom Import test, a Lightroom Export test, and a Photoshop benchmark from the folks at Puget Systems.
The charts below show the results from the XPS 17 compared to the most expensive configuration of the 16-inch MacBook Pro (8-core i9 CPU, 64GB of RAM) and the 2020 Razer Blade Studio Edition (8-core i9 CPU, 32GB of RAM). Each result is based on a minimum of three consecutive runs to eliminate outliers and evaluate the computer's performance under sustained load.
Lightroom Import
110 Sony a7R IV files (61MP), Standard Previews
150 PhaseOne XF files (100MP), Standard Previews
Lightroom Export
110 Sony a7R IV files, full resolution JPEG, 100% quality, sRGB color space
150 PhaseOne XF files, full resolution JPEG, 100% quality, sRGB color space
110 Sony a7R IV files, 16-bit TIFF, uncompressed, AdobeRGB color space
150 PhaseOne XF files, 16-bit TIFF, uncompressed, AdobeRGB color space
Photoshop Benchmark
Puget Systems Pugetbench for PS v0.8 (Note: we are still running v0.8 because it was the last version that included a Photo Merge test, which is obviously extremely relevant to our audience).
As you can see, the XPS 17 more than held its own against the top of the line; in fact, it outperformed both the MBP and the Blade Studio in several categories despite having a slightly slower CPU. All this while staying much quieter than the Blade, even during a 4th or 5th consecutive export run in Lightroom Classic.
The difference in export performance may be due in part to improvements that have been made to Lightroom Classic since we last tested the Blade and the MBP, but that won't account for the whole difference or the Pugetbench scores. Some of the credit has to go to the XPS 17's vapor chamber cooling solution and Dual Opposite Outlet (DOO) fan design, which allowed the CPU to boost for longer. As a bonus, it also kept the laptop comfortable on my lap during long work sessions on the couch.
Whatever the reason, we were extremely impressed by the performance from this machine and kind of wish Dell had sent us the top of the line model with 64GB of RAM and the Core i9 processor—with that spec, the Dell may have dethroned the 16-inch MBP in every category… at a fraction of the price.
Pros, Cons, and Conclusion
The Dell XPS 17 is easily one of the best creator laptops on the market, and the pros and cons list bears that out:
Pros
Stunning edge-to-edge 4K display with 100% AdobeRGB
Small footprint (for a 17-inch device)
Elite-level performance
SD card slot
Premium build quality
Surprisingly good battery life
Great keyboard
Massive trackpad
Cons
Still big and heavy
No USB-A ports
Crappy 720p webcam
Need to spend at least $3,000 to justify the size
Any complaints I have about this laptop are largely nitpicks. Yes, it's big and heavy, but not as big and heavy as you expect given the massive screen; it has no USB-A ports, but you get four Thunderbolt 3 ports and a USB-A/HDMI dongle to make up for it; the webcam is crap, but every laptop webcam is stuck in 2010; and it's pricey as configured, but our performance tests show that you absolutely get what you pay for.
I wouldn't recommend the Dell XPS 17 to the average user. If your daily workflow involves a few Chrome tabs, some Slack messaging, email, and a few Zoom calls, you'll never get to see this laptop shine. You'll find more than enough performance in the smaller XPS 15, or even the XPS 13 if you want to optimize for portability.
But if you're a creative doing color-critical work day-in and day-out; if screen quality, screen size, and photo/video editing performance will make the biggest difference in your workflow; and if you're willing to sacrifice a little portability to get the best of all-the-above: Dell practically designed the XPS 17 just for you.