Photonstophotos has published its dynamic range test results for the new Canon EOS R and Nikon Z7 full-frame mirrorless cameras. The numbers show that both Canon and Nikon trail the performance of Sony's cameras.
Here's the comparison chart by Photonstophotos: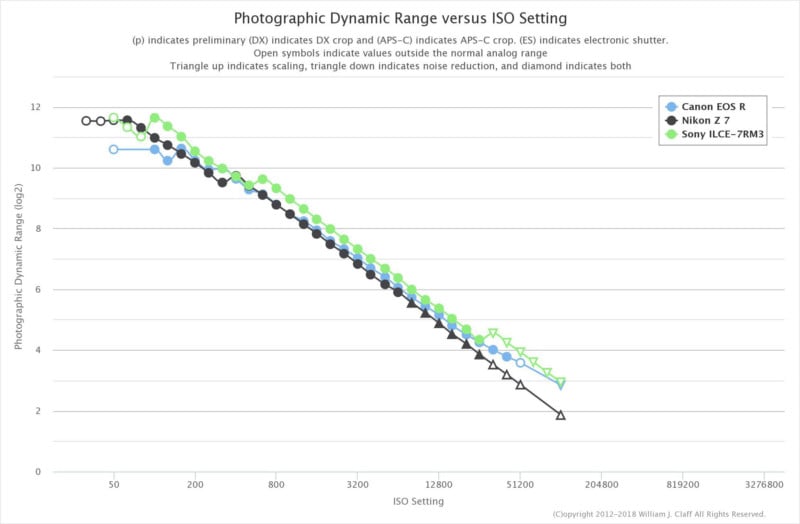 At ISO 100, the Sony a7R III has a Photographic Dynamic Range (PDR) of 11.64, the Nikon Z7 is 10.98, and the Canon EOS R is in last with 10.6. The Nikon Z7 does have a lower native minimum ISO of 64, but even there it has a PDR of 11.56, which still trails the Sony score at ISO 100.
At base ISO, Canon's EOS R (10.6) is closer in dynamic range performance to the APS-C Sony a6500 (10.31) than to the full-frame Sony a7R III (11.64).
At ISO 25600 (the max native ISO of the Z7 — the Sony goes to ISO 32000 and Canon has ISO 40000), Sony scores 4.34, Nikon is measured at 4.25, and Canon is 3.85.
What's interesting about these test results is that Sony is the world's leading image sensor manufacturer right now in quantity (and arguably quality), Nikon uses Nikon-designed/Sony-manufactured sensors in pro-grade cameras such as the D850 (and perhaps the Z7?), and Canon makes its own sensors and only recently began selling them to third parties.
"[K]eep in mind the Canon and Nikon cameras are the newest cameras meaning that the gap is expected to increase once Sony announces the new models," sonyalpharumors writes.
Despite the apparent differences in scores, however, this test also shows that all three cameras have very similar dynamic range performance that's in line of what's expected of top full-frame cameras — the numbers above are all better than or equal to pretty much all cameras on the market, so don't read too deeply into them.